Introducing the EliteMini HX90 with a Ryzen 9 5900HX: The Most Powerful Mini PC?
Minisforum's latest foray into the high-performance mini-PC market is the razor-fast MINISFORUM EliteMini HX90. This brilliant system packs the latest AMD Ryzen 9 5900HX with Zen 3 built-in graphics to bring enthusiasts a powerful system for productivity and light gaming.
---
Powering the beastly HX90 is the AMD Ryzen 9 5900HX. Although firmly a mobile APU, it's one of the fastest mobile processors ever made – having been found in a slew of gaming laptops like the brand-new Razer Blade 14.
This chip is powered by the Zen 3 core architecture, crafted with TSMC's industry-leading 7nm process. Zen 3 brings higher instructions per clock, lower latency and improved efficiency over Zen 2 processors.
The Ryzen 9 5900HX packs 8 high performing cores with 16 threads, offering great headroom in both gaming and productivity applications. The Ryzen 9 5900HX reaches a max boost clock of up to 4.6GHz, churning out maximum power whenever needed.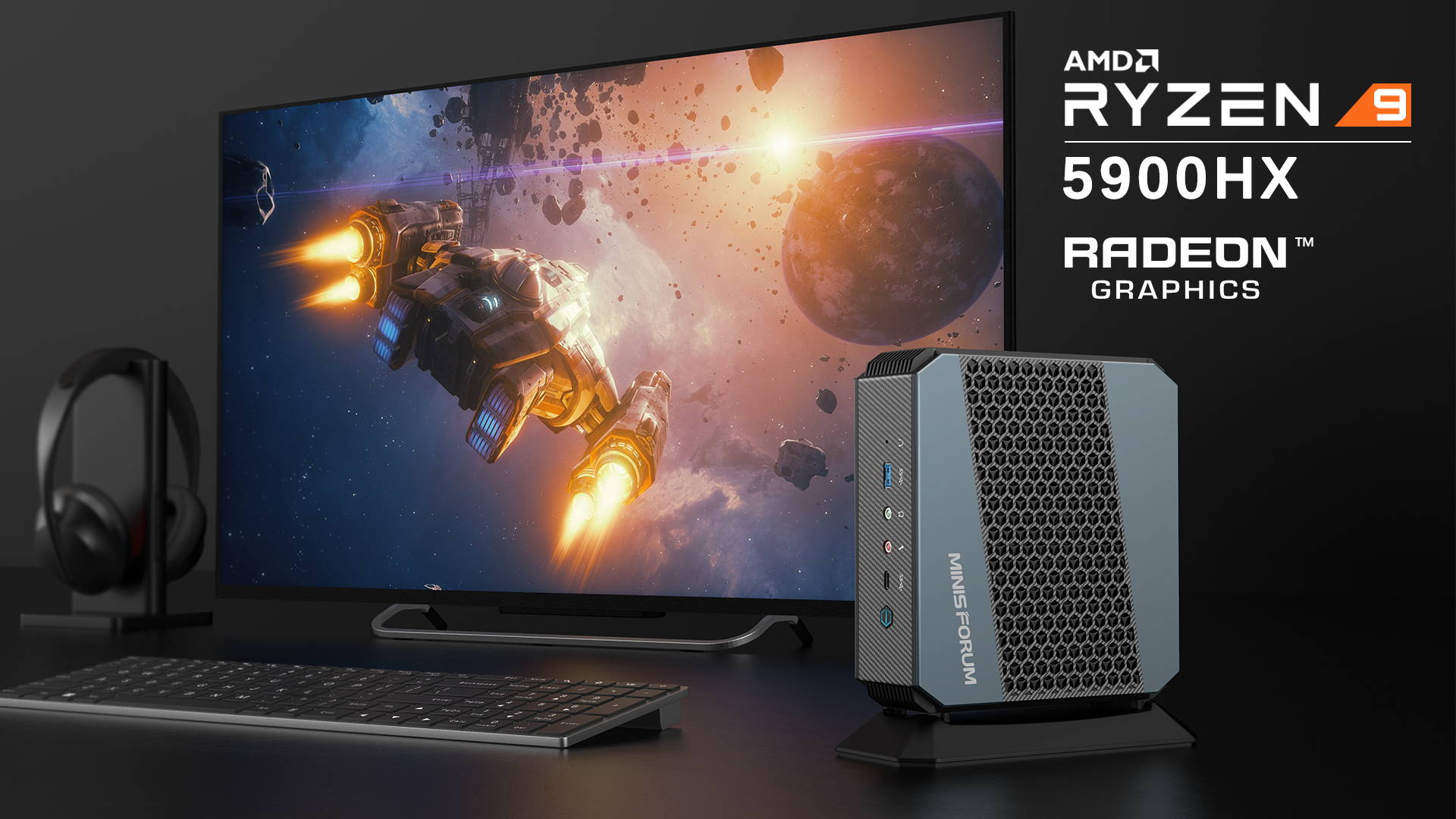 Graphics: Radeon Graphics
---
With the size limitations of mini-PCs, it wasn't possible to include a dedicated GPU in this system. Therefore, MINISFORUM has opted for the next best thing: a powerful AMD APU.
The AMD Ryzen 9 5900HX offers some impressive graphics horsepower in its RADEON 8 integrated GPU. This iGPU delivers 1.946 TFLOPS – far exceeding other integrated graphics solutions from the likes of Intel's UHD Graphics.
---
The EliteMini HX90's star power is clearly its design with a brilliantly compact carbon fiber reinforce plastic chassis – measuring in at 195x190x60mm.
This mini-PC could easily be mounted to the back of a monitor with a dual-hole VESA mount drilled into the back of the unit. For those who prefer their systems sitting on their desk, the HX90 also includes a 25.7mm tall stand.
With so much power packed into a tiny chassis, the main concern of building a mini-PC like the HX90 is thermal performance. However, with their liquid metal cooling system, MINISFORUM effortlessly dispatches any concerns of overheating or thermal throttling.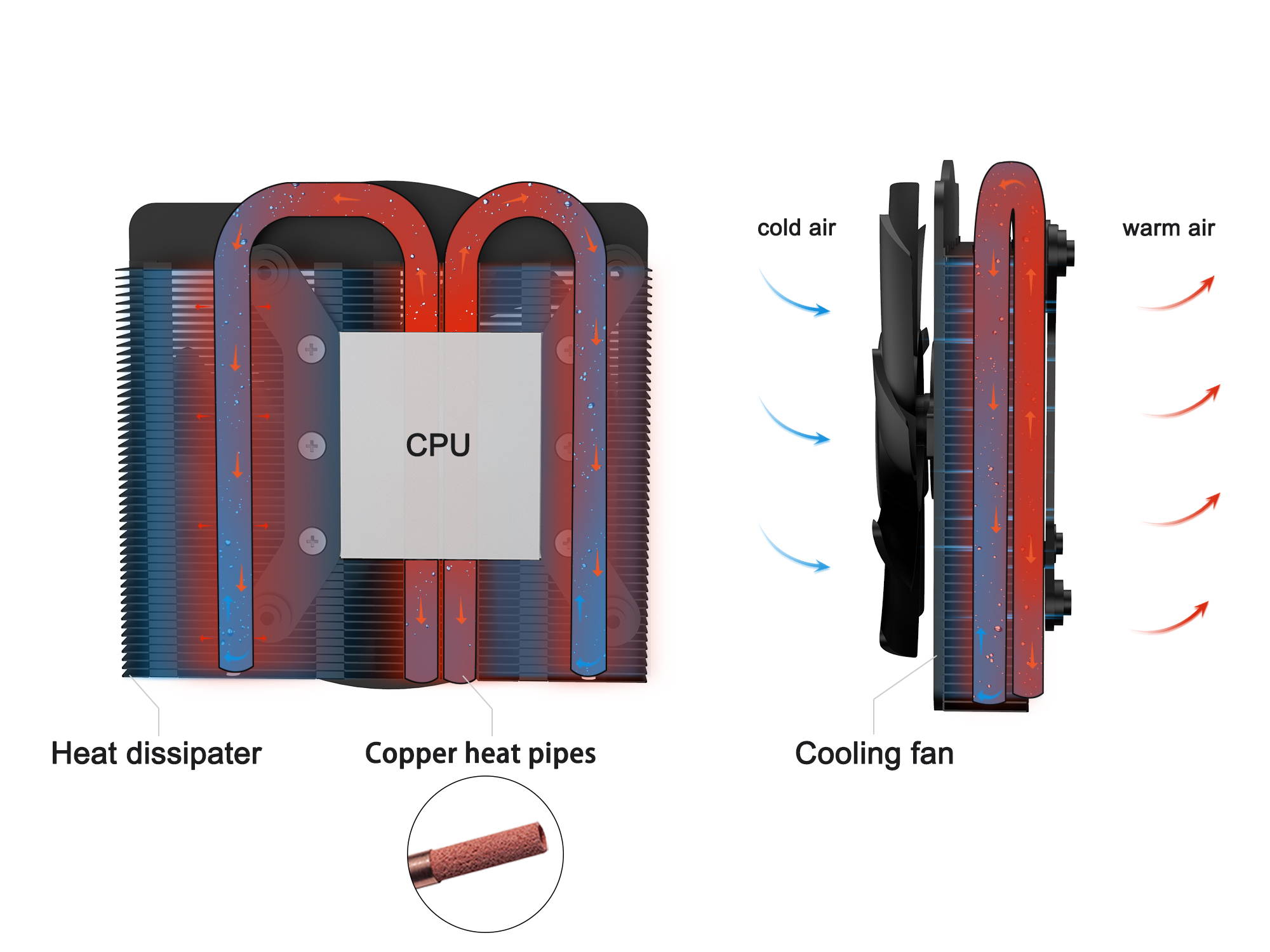 This impressive cooling system starts with a large 99.3mm fan pulling in fresh air to cool the entire system. A beefy heat sink makes direct contact with the CPU through a liquid metal compound, offering maximum thermal performance.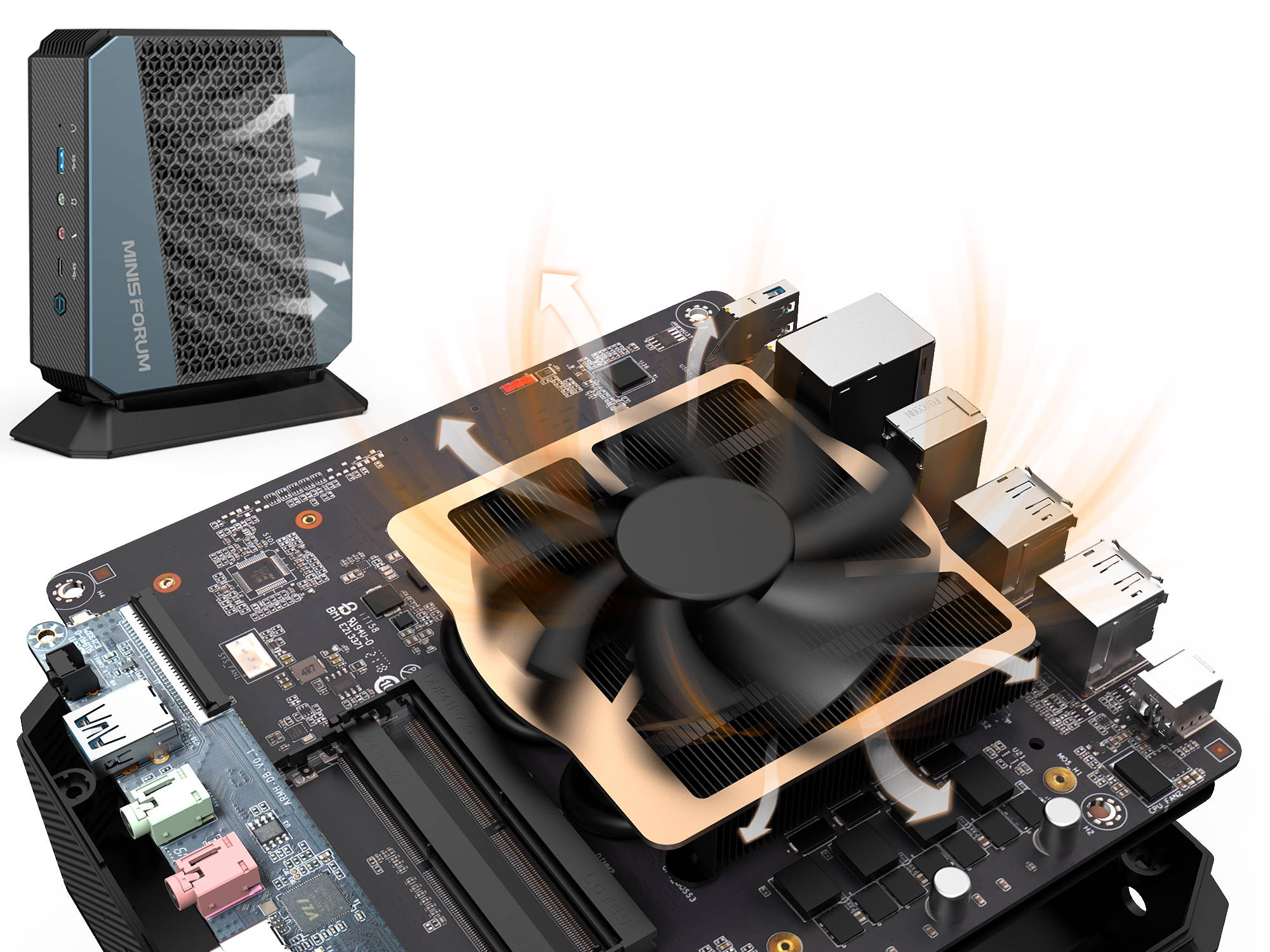 How good is this liquid metal?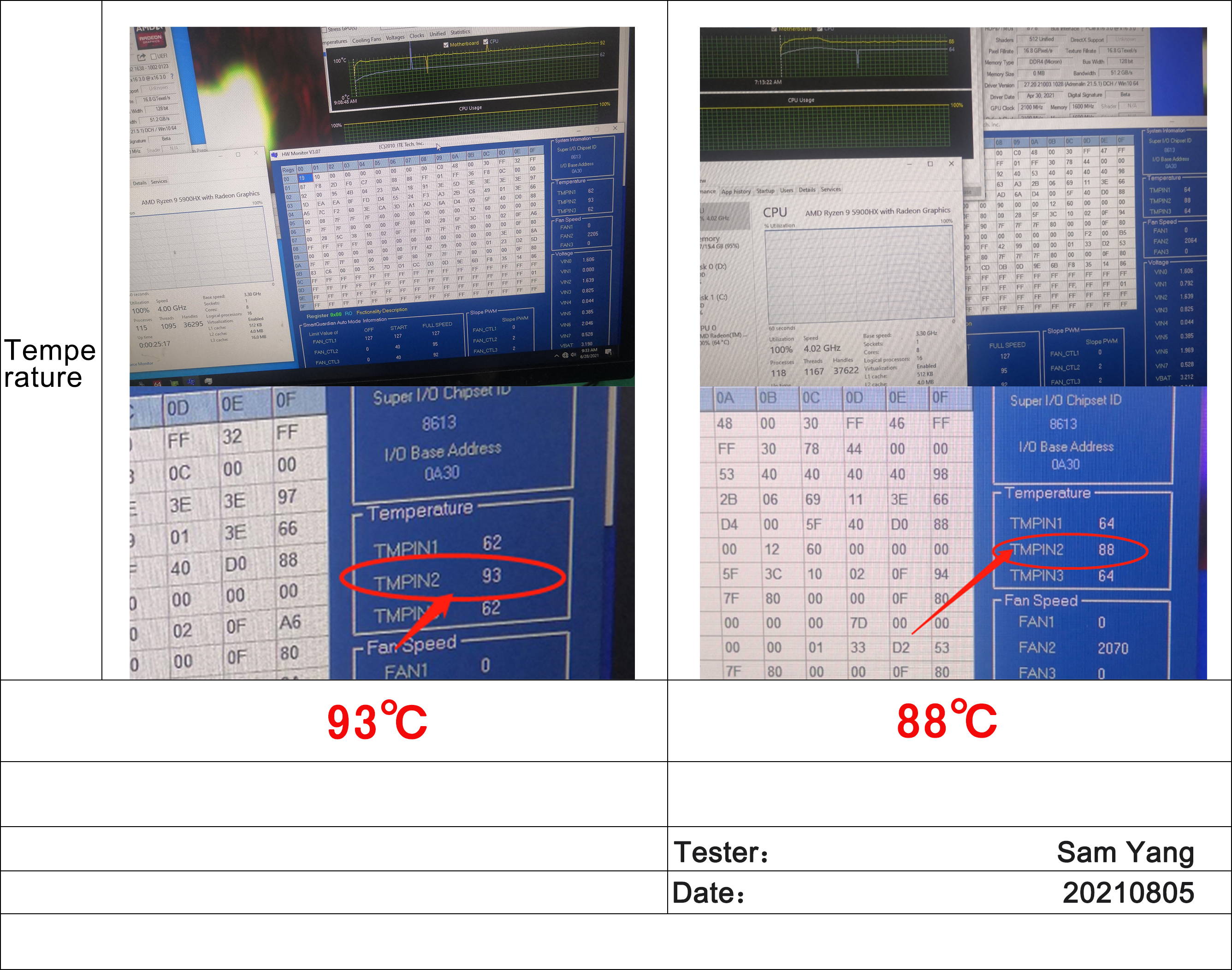 The result is a 5-degree difference when compared with standard thermal paste – perfect for extending the longevity of a mini-PC. With the help of liquid metal, the fan only runs at 25-30db during normal usage.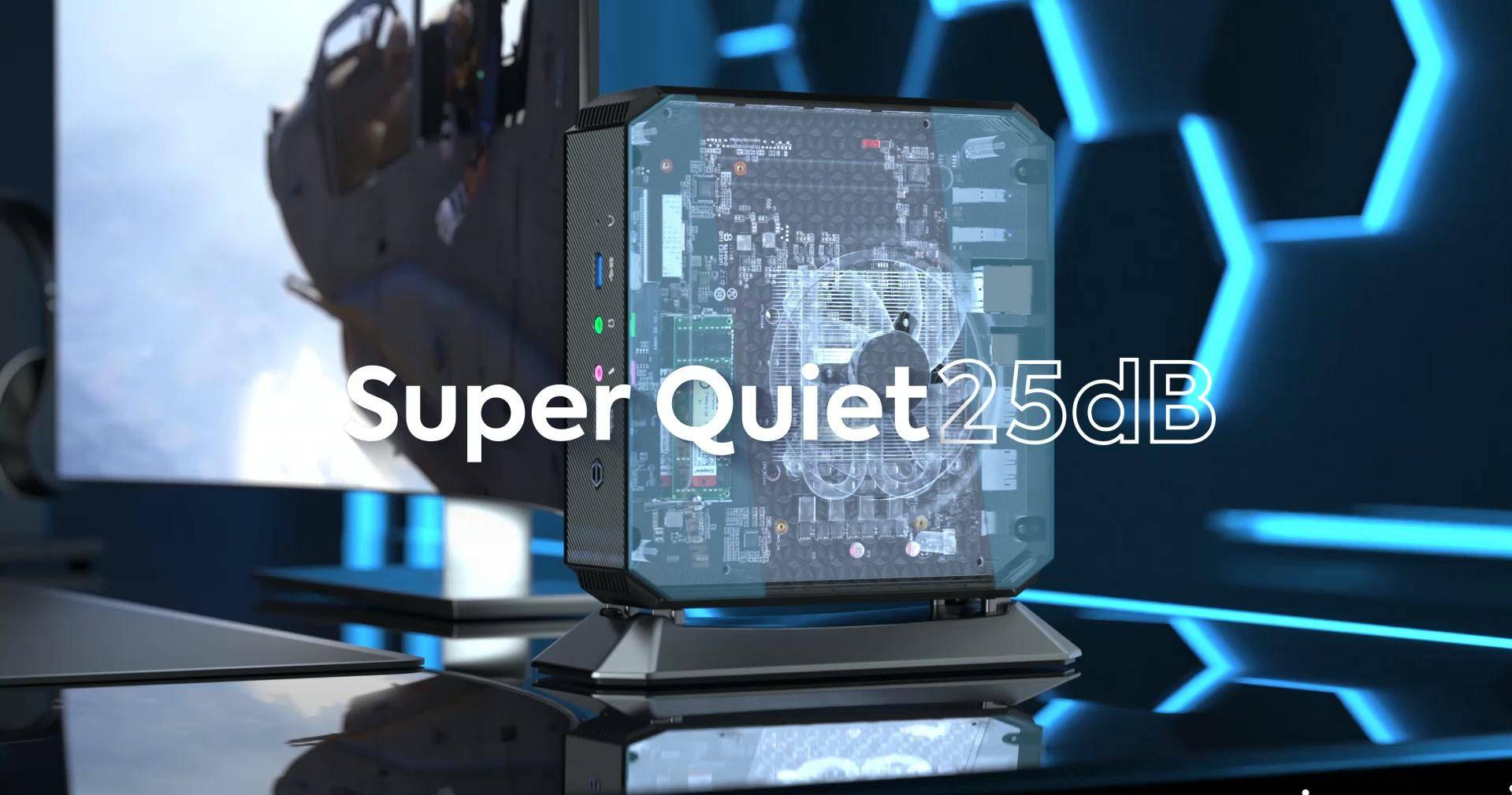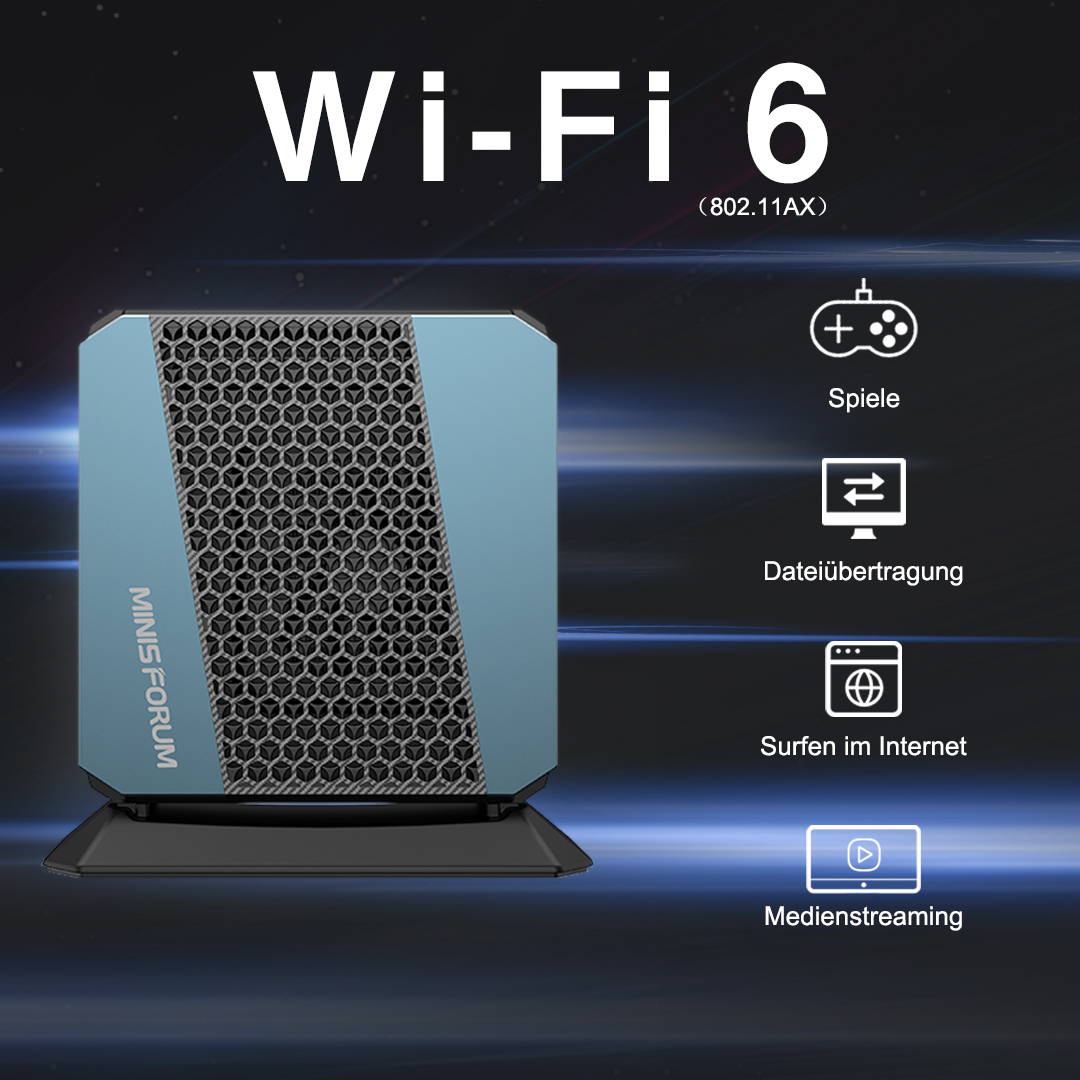 Another key advantage of this next-generation HX90 mini-PC is the support for the latest wireless protocols. Unlock the next generation of wireless networking with the ground-breaking AMD WiFi 6 802.11ax dual band wireless card.  
Wi-Fi 6 brings you significantly faster speeds when compared to Wi-Fi 5 – offering up to 1.2Gbps speeds and a 75% reduction in wireless latency.
This is paired with the latest Bluetooth 5.1 chip for a low latency experience with all your favorite Bluetooth peripherals.
Physical connectivity is great also, with the ability to connect to up to four 4K displays. The HX90 also features five USB 3.0 type-A ports and one USB Type C port.
"The base model of the HX90 is a barebones package, allowing you to pick and install your own memory and SSD. The HX90 supports a maximum of 64GB of DDR4 RAM through 2-SODIMM slots."
Memory
"Storage needs are covered by both a lightning fast M.2 PCIe3.0 SSD slot and two SATA 3.0 slots offering speeds up to 6.0Gb/s. MINISFORUM also offers complete builds with a choice of either 16GB or 32GB of 3200MHz RAM and up to a 512GB M.2 SSD."
Storage
So, how does the HX90 perform? Our first benchmark comes in GeekBench 5 where the HX90 races to a 1526 single-core score and a 7532 multi-core score. This multi-core score beats out the lauded late-2020 Mac Mini packed with the Apple M1 chip. In Geekbench's OpenCL graphics benchmark, this system scored a 16870.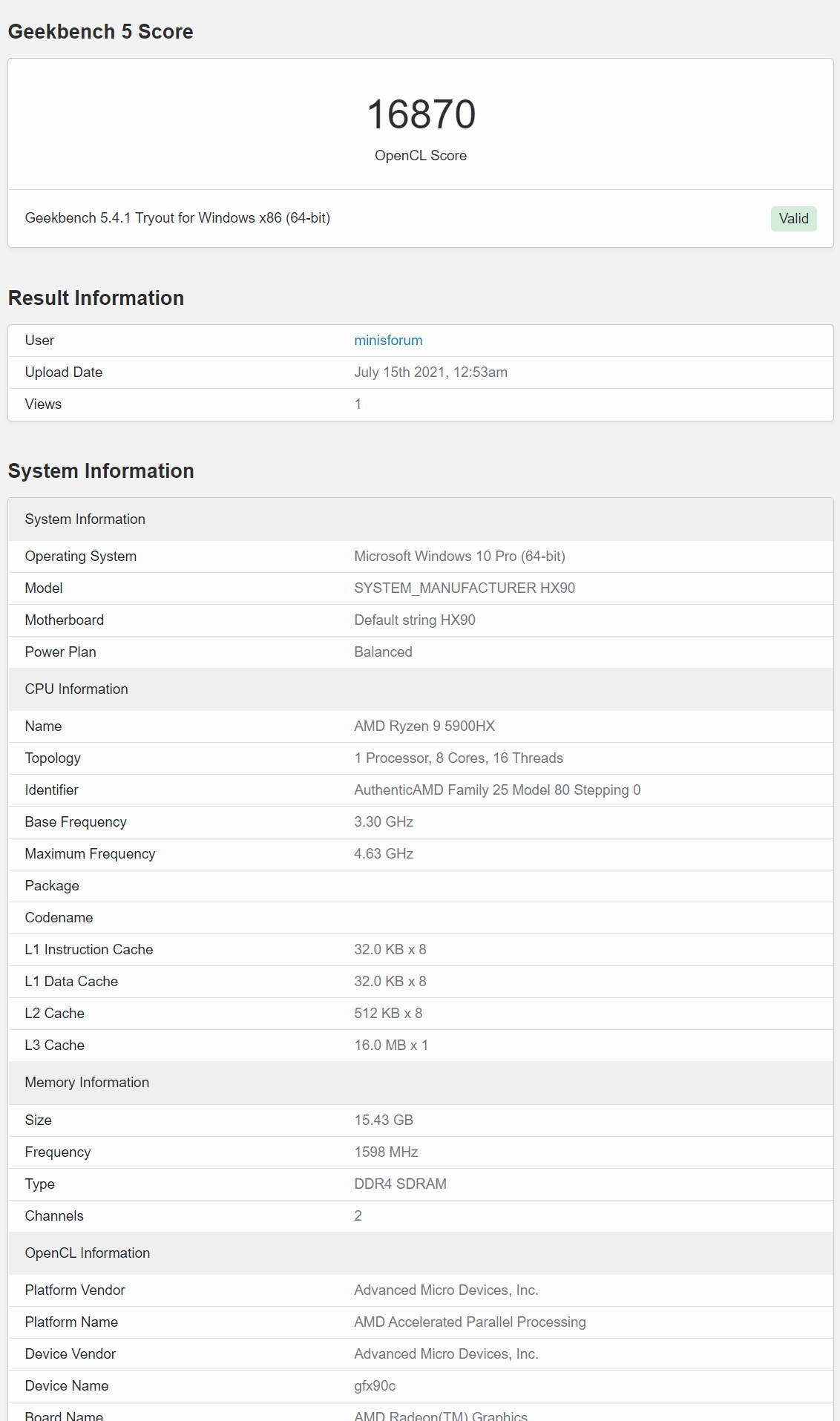 Turning to 3DMark – a test of GPU rendering power – the Ryzen 9 5900HX in this machine scored 13,202 in the Sky Diver benchmark with an average of 60FPS and 56FPS in the graphics tests respectively.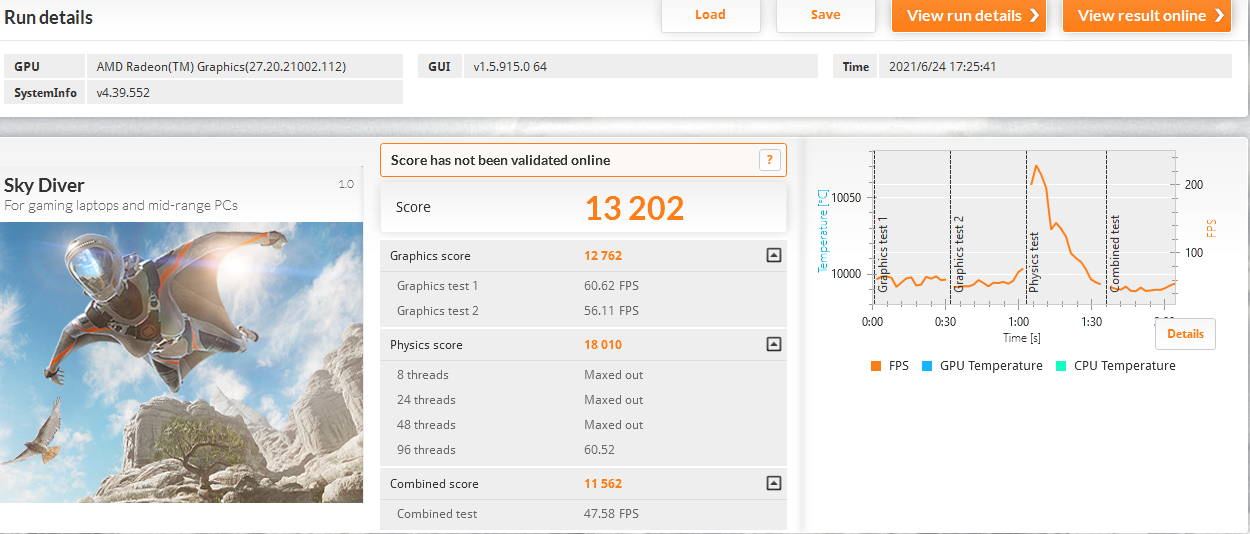 An important question is how does the HX90 perform in gaming? The manufacturers ran a few benchmarks in some of the most popular games, and here's what they found.
In APEX, the HX90 ran at 60FPS, with Battlefield V and Far Cry 5 dropping to a playable 35 and 36 respectively. The impressive streak continues when looking at GTA 5 and Need for Speed: Hot Pursuit, pulling averages of 55fps and in GTA and 68 in NFS.
Whilst this isn't eSports-level performance, namely due to the limitations of an iGPU, the power of AMD's Radeon 8 graphics chip offers a perfectly acceptable experience in many games.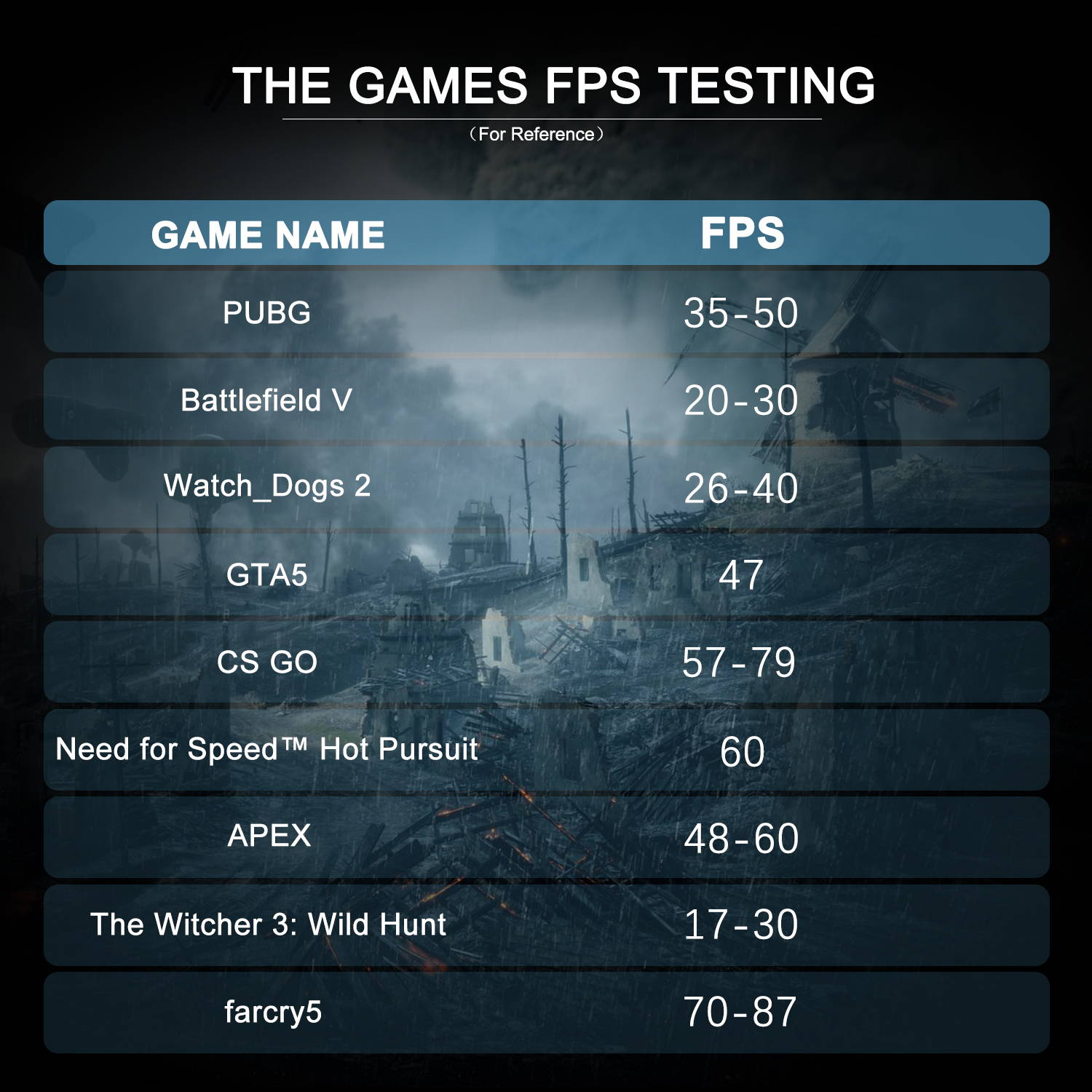 That leads us to an inevitable question: who should buy the HX90? Anyone looking for an impressive amount of CPU horsepower in a compact chassis, the HX90 is one of the most powerful mini-PCs on the market.
For professionals looking to deploy workstations for intensive applications like video editing, AutoCAD, 3D modelling or software development, the HX90 is perfect to attach to high-end monitors for a clean office setup.
Gamers who are looking for a light gaming machine will love this device, with the power of the Ryzen 9 chip offering a buttery smooth experience.
Where this mini-PC really comes into its own is as a game streaming box. With the rapid rise in internet speeds, the shortages of gaming hardware like GPUs, game streaming has become a viable option for PC gamers to play the latest video games.
Services like XBOX Cloud Gaming, Nvidia GeForce Now and Google Stadia allow PC gamers to stream their favorite games from the internet – just like with movie streaming with services like Netflix.
With the Wi-Fi 6 card and 2500Mbps LAN networking, the HX90 is the perfect home game streaming console. Set this tiny machine next to your TV, connect controllers via Bluetooth and game away!
Pricing and Conclusion
The EliteMini HX90 starts at a competitive $649.00 for the barebones build – without RAM or an SSD. To upgrade to a complete build with 16GB of RAM and a 256GB SSD will set you back $799.00. The top-spec build comes with 32GB of DDR4 RAM and a 512GB SSD for only $909.
If you're looking for a highly capable mini-PC packed with the most powerful mobile processor on the planet, the MINISFORUM HX90 is a fantastic choice!